It is the start of the F1 series, and I see Mario Andretti is being courted by Lotus F1 to work with them...
Mario standing in front of a JPS Lotus
This pic was taken from a
NY times
article.
In the early to mid 1990's I volunteered for the Champ cars series on it's Belle Isle, Detroit leg. I was issued a go anywhere pass! I would often be within feet of Mario and Paul Newmann.
Mario and Paul
Sadly, I never took any photo's ... One year David Coultard, Jackie and Paul Stewart were wandering around the pits and I have a pic with Jackie on the wall in England.
I hope Mario comes onboard. He raced with his Son for Newman Haas, and has a long and proud history in motorsport, not just racing for Lotus.
(Group) Lotus enter Indy racing this year. Lovely looking car.Katuma Sato will drive it. It's a shame Mario and Emerson have retired!!
Lotus also gave Nigel Mansell a drive. He was also at Belle Isle. He kept pretty much to his Motorhome when not racing. Picture taken from
lotusespritturbo.com
Nigel with Colin Chapman and British royal Prince Michael of Kent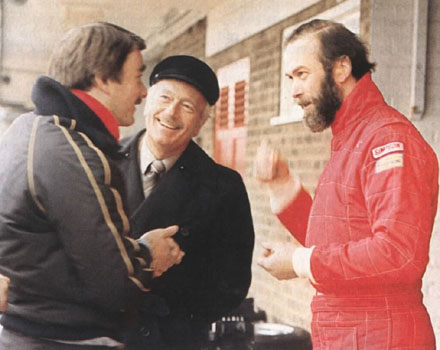 The Bahrian race will be starting soon. Vettel is on pole surrounded by Ferrari's. I hope the race isn't a procession where all if any overtaking takes place at the first corner!